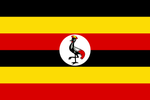 travel
Uganda, 2023
February 9th, 2023 – February 16th, 2023
Africa, and specifically, East Africa has been on our travel bucket list since we created a travel bucket list. Timing and budgets have been the only thing preventing us from going to East Africa. Fortunately, everything aligned for us this year. We originally planned to spend the majority of 2 weeks in Rwanda. After researching what we wanted to do and assessing cost, those plans changed, as Uganda is significantly less expensive than Rwanda. For example, gorilla tracking is half the cost in Uganda as it is in Rwanda. It's even less expensive in the Democratic Republic of Congo, but the possibility of not coming back from seeing the gorillas or not even seeing the gorillas at all was too much of a gamble. The DRC is seemingly not a safe travel decision at all. Anyway, we could not have been more thrilled with our trip.
This post highlights some of my favorite photo captures of our trip. In total, I captured 7,000 images. Of those, they were culled down to only the best 731 images. Our East Africa trip is divided into two posts, one for each country we visited.
Photography gear taken on this trip
If I were to go on a safari trip again, and one which includes significant portions in very dense forests, I would rent or purchase a 70-200mm f/2.8 lens. The 2.8 would have let in more light and kept my ISO down to more favorable levels. The Fujifilm 16-80 f/4 was almost perfect for dense forest with limited light, however, the X-T3's autofocus is not close to Canon's and when you've been hiking for over an hour, mostly up hill with uneven terrain, and you finally come across gorillas, but you're a sweaty mess; Canon's ability to see better than you can is invaluable. What isn't so awesome is the EOS R7's high ISO (12800) noise level. Had I not had foggy glasses (due to hiking, wearing a mask and it being humid) the entire time we were with gorillas, the Fujifilm would have been perfect adequate, as my ISO never went above 6400. So, again, for gorilla tracking, if I were to do it again, I would put a 70-200mm 2.8 on the Canon, but still bring the 100-400mm for birds and for tighter wildlife portraits. Overall, I am very happy with my captures. I have yet to use de-noise software, but maybe staring at some of these 12800 ISO images for a while will make me reconsider.
---
Quick links
---
Uganda
While in Uganda, we traveled around a lot. In total, we stayed at 5 different hotels/lodges. We tracked chimpanzees in Kibale National Forest, visited Queen Elizabeth National Park for game drives, took several boat rides to view hippos, elephants, water buffalo, and, perhaps the central highlight of the trip: tracked gorillas in the Bwindi Impenetrable Forest.
Our trip was unforgettable and one we'll carry with us for the rest of our lives.
---
Street views and scenery
The following images were either captured while in motion, traveling between locations in our guide's Land Cruiser, or they were captured while walking around near wherever we were staying.
---
Landscapes and Scenery
The following images were mostly captured from the lodges in which we stayed. Others were captured while in motion, moving between locations, in our guide's Land Cruiser.
---
Birds
We saw so many colorful, interesting, or just plain weird looking birds.
---
Crocodiles
---
Chimpanzee tracking - Kibale National Park
Our chimpanzee tracking experience was wonderful. Unfortunately, on our outing the chimpanzees refused to come down from the trees they were sleeping in, but I was still able to get some decent shots. The hike through the Kibale National Park was fairly easy and mostly over flat terrain.
---
Hippos
Hippos everywhere! We absolutely couldn't get enough hippos on this trip. Most of the captures below were taken from a boat while in the Kazinga Channel.
---
Elephants
Elephants are the best. I will never get tired of watching elephants. Many of the captures below were taken while in a boat on the Kazinga Channel or while in a vehicle at Queen Elizabeth National Park.
---
Uganda Kob
---
Lions
We saw a couple lions while in Queen Elizabeth National Park. We were fortunate enough to see one in a Euphorbia candelabrum, however, unfortunately, it was quite far from our vehicle and at the end of my lens' focal range (600mm). I'm happy to have captured some photos, but do wish the lion was a bit clearer/less noisy.
---
Water Buffalo
We learned about "loser" buffalos. A loser buffalo is an older buffalo who is too slow to keep living with the herd. Loser buffalo are kicked out of the herd and must live their remaining days alone or with other losers. It's sad, but I suppose it's a necessary part of the life of water buffalo.
---
Gorilla Tracking - Bwindi Impenetrable Forest
Our gorilla tracking experience was intense. Our group hiked mostly uphill through the mountains for an hour and a half before finding the gorilla family we were tracking. Once we were with the gorillas we had to put on our face masks (to protect the gorillas from any possible diseases we may have and to protect us from any possible disease any gorilla may have). We were able to hang out with them for an hour before hiking back to where we started. The whole experience lasted around 4 hours. The most difficult aspect of capturing images of the gorillas, and one which I did not prepare for, was the fact that I'd be a sweaty mess, with foggy glasses, and unable to effectively see the gorillas through my camera's viewfinder. Thankfully, my Canon's autofocus could see better than I could and it captured some great images. I mentioned this at the top of the post, but I have to mention it here, too, that the noise levels in some of these images is less than ideal. I was shooting an ISO of 12800 due to lighting conditions in the dense jungle, coupled with not using a fast lens – one with an aperture lower than f5.6. If I were to go gorilla tracking today, I would rent a 70-200mm 2.8 lens and call it a day. So if you're going gorilla tracking, please, learn from me and rent or purchase a 70-200mm 2.8 equivalent lens. I adore Fujifilm, but their autofocus can not match the Canon EOS R7. If I could have seen the gorillas well through my Fujifilm viewfinder, I think the 16-80 f4 would have been almost perfect. Having a bit more length would have been perfect, which is, again, why a 70-200mm 2.8 would have been perfect. Okay, end rant.
One other challenge to effectively capturing photographs of the gorillas is that where we had to stand/sit while with the gorillas was precarious at best – full of thick vegetation and tree roots.
Toward the end of our time with the gorillas, one of the trackers was clearing debris/vegetation between the male silverback shown below and the rest of the family who we couldn't see from our vantage point. The tracker got a bit too close and the silverback wasn't happy about it and charged the tracker. No one was hurt, thankfully, just scared. We left with a story to tell.
---
Final thoughts
Uganda is an incredible place to visit. While driving across the country, one can observe so much activity. Every town is packed with activity and things to see. If I had to pick my two favorite parts of visiting Uganda, they would be: visiting Queen Elizabeth National Park and the entire experience gorilla tracking. If you were to ask me to name what our favorite lodge/sleeping accommodation was, I would tell you all about the fantastic Chimpanzee Forest Lodge, its good food, friendly staff, and its beautiful scenery.
At the end of my forthcoming post on Rwanda, I will post some thoughts about the differences we observed between Uganda and Rwanda.