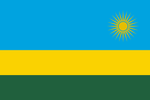 travel
Rwanda, 2023
February 17th, 2023 – February 21th, 2023
One of the first things we did after crossing the border from Uganda to Rwanda was to visit the Akagera Coffee Plantation and learn all about how they farm and process coffee. Aside from that, most of our 5 days were spent in Akagera National Park doing game drives and enjoying our stay at the incredible Rizizi Tented Lodge. On our last day in Rwanda, we spent the day in Kigali, visiting markets and the genocide museum.
Upon crossing the border from Uganda to Rwanda, one can't help but notice several differences. Rwanda puts more emphasis on ensuring their streets and public areas are clean and tidy. There is no trash in the streets. There are no vendors on the sides of the street. There are very few motor vehicles. People mostly ride bikes or walk. People on motorcycles are limited to a quantity of two, opposed to Uganda in which whole families ride on a single motorcycle. The roads are all paved, in contrast to Uganda's mostly dirt roads. Rwanda is big on rules and they enforce them. These changes are no doubt related to, and appear to very intentionally seek to uphold an appearance of being put together, to be diametrically opposed to the Rwanda of the 90s. As a country, and as a community, they actively educate about the genocide and the events which led to its horrific climax: those 100 days between April and July of 1994. The Rwanda of today isn't afraid to talk about and to educate about Rwanda's history, in an effort to prevent history from ever repeating itself.
The Rizizi Tented Lodge was our favorite place we stayed throughout our entire Uganda and Rwanda trip. The tented lodges consist of 9 luxury tents. The front half living room/sleeping area consists of a permanent canvas tent and the back half, which houses the shower/bathroom, of each structure is constructed of concrete, tile, and stonework. All 9 tents are connected to the main lobby area and restaurant by a very long elevated boardwalk. Under the boardwalk, along one side, is an electrified wire. This wire prevents animals from getting too close to guests and staff. Because the tented lodges are inside of Akagera National Park, these wires are the only thing protecting us from hippos and other animals, which may cause us harm. Vervet monkeys are free to road all around the boardwalk and they are totally harmless to humans. They were a lot of fun to watch as they are mischievous and rather funny. Our evenings were filled with the wonderful sounds of hippos. I will never forget falling asleep to the sound of hippos. It was a truly magical and incredible place. If you go to Rwanda you have to stay at the Rizizi Tented Lodge. The staff are phenomenal, the food was delicious, and their house-made teas were fabulous. Throw all the incredible wildlife in the mix and you have basically heaven on earth.
---
Quick links
---
Akagera Coffee Plantation
We visited Rwanda in the off-season of coffee harvesting. It was still a wonderful experience to chat with the folks growing coffee for Akagera Coffee and learn about the stages of coffee production. We also got to plant our very own coffee tree. Maybe we'll be able to find it when we go back to Rwanda someday.
---
Akagera National Park
While in Akagera, we saw monkeys, baboons, elephants, hippos, white rhinos, masai giraffes, water buffalo, topi, impalas, antelopes, zebras, crocodile, warthogs, and numerous beautiful birds. Akagera is not as flat and open as Queen Elizabeth National Park is, in Uganda. You have to drive quite far (an hour or so) through Akagera's roads before you come across a lot of animals. Animals are also harder to spot, as there is much taller ground coverage and vegetation.
---
Monkeys and Baboons
---
Topi, Water Buffalo, Antelope, Impalas
---
Birds
---
Hippos
---
Zebra
---
Elephants
---
Warthog
---
Masai Giraffe
---
Crocodile
---
White Rhinos
---
All together now!
---
Final thoughts
Our time in Rwanda was the perfect amount of time for this trip. Kigali, as a major city, was nice to visit, but we were happy to spend most of our time away from the city, surrounded by wilderness and wildlife. If you were to ask my spouse and I which country we preferred more, we would say Uganda. It's more of what we're accustomed to and prefer. We couldn't help but to draw some comparisons to India and Asia, in general. There are more people in India, of course, and there is much more activity going on all the time, in comparison to Uganda. Uganda is quiet. Rwanda is even more quiet. In India, there are fewer people sitting around doing nothing outside. People are selling things, talking to people, walking around, and working on projects/items to sell. Uganda is filled with folks sitting in front of their homes, seemingly doing little. People sit around outside as if they're waiting for something. Maybe they are, or maybe it simply makes socializing easier. Whatever the reason, it's wonderful to see people outside, compared to Rwanda where people are doing things, but not with the same volume as Uganda. In Rwanda, you can't sell things along the sides of the street. As a result, there is little happening as you drive down the road. It's a clean, smooth, scenic drive, but not nearly as visually stimulating as Uganda. That may sum up Rwanda well. People are very friendly and it's a beautiful country. Akagera is an incredible park.